Exhibited these panels in 2000 at Sandler Hudson Gallery but have significantly updated, well, changed the color.... had been a lot of areas left uncolored and decided to do away with that. They appear in the found object category under Sandler Hudson Installation 1.
These two panels were ends of a storage rack I built for my teacher spouse to store her charts. Eventually she outgrew it and I reclaimed the materials for art, taking the two ends for these and maybe used the excess in some other work. I had to think of Degas' dancers, with me tongue in me cheek.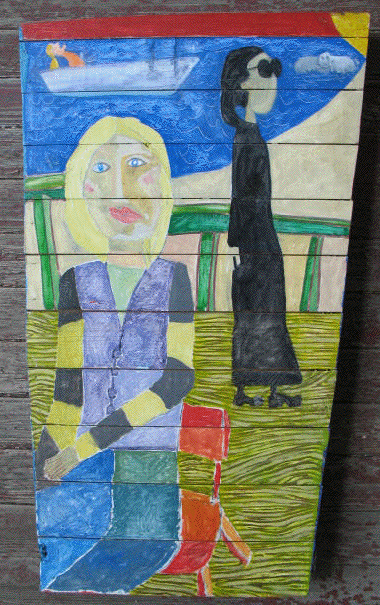 More images from daughter's sketch books... sort of a collage of them. The woman in black w/shades reappears & I used it more than once. The figure in the boat is such a hoot... and that owl!