back next Clever Table © 1990 Tom Ferguson In the show

Multiples

at Chastain Art Center, curator Julia Fenton. The call was for multiples but not the traditional multiple, the print. So I put together this arrangement of the apple jug edition, which certainly involves repetition - lighting my stove, dropping the spent match in the current jug. Jerry Cullum kindly gave this piece center-stage in his review of the group show. The piece on the table is a 2 x 4" wrapped in canvas, painted w/heavy impasto with the inscription, in the paint, 365 x 70 = 25,550.... an average life span, multiple days. There's a color shot of just the slab in a different context at next. Also below is a shot of some of the jugs in a different context, on top of one of my top bookshelves. The most recent exhibition of them was in my retrospective at Eyedrum in Atlanta (summer 09). The edition or series is now complete at 19... i'm no longer accumulating them. The 'labels' on the jugs are invites to various shows i've had over the years. I'd use whatever one was current when a jug was full. The 19th was my retrospective, possibly my last exhibit...
called

AS-IS (finale)

... in any case i'm not accumulating paintings anymore either.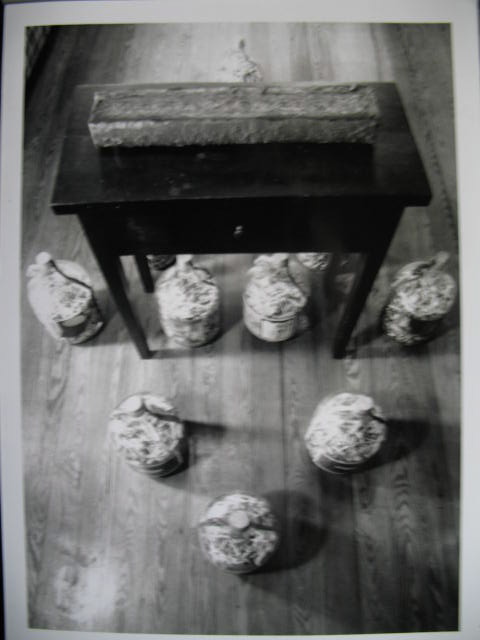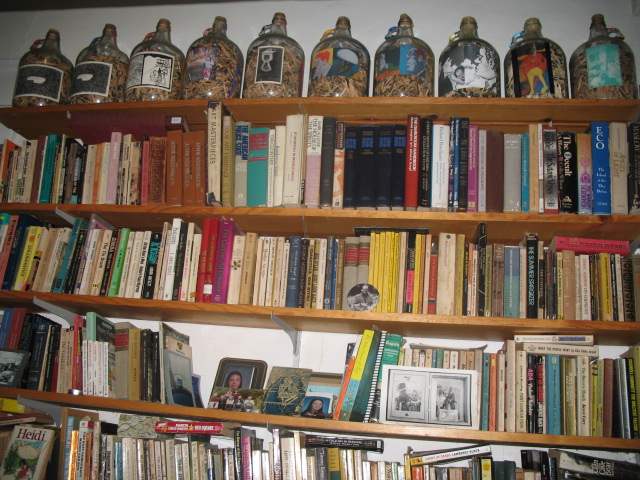 We culled our books not too long ago making room for the jugs up top and that little opening there with
the photos & post cards. I'm a text addict but i'll let the library and the net store them until i need'em. Of course
some rainy winter days in a pinch I can always find something at home. Occasionally i'll re-read something
that impressed me years ago, ie, Hesse ... see how my current encarnation sees it. As one reaches the near
side of eternity one begins to want to shed stuff, because it just isn't as important as it once seemed, it starts
to create storage problems and also because one (if I may use the distancing ONE) one does not wish to
leave a mess for someone else to clean up.
back
next